ABOUT US

THE FELT STORY |

WHO WE ARE. WHERE ARE WE HEADED.

OUR MISSION   Go. Fast. 
Our mission is to be the preeminent performance drop-bar and triathlon bike company in the world. We think that going fast is fun and we make our bikes accordingly.
Our customers have a racing spirit and a competitive mindset. Whether they are pinning on a number at the World Championships or in the hunt for a KOM or QOM on their local segments, performance is the common thread aligning us together. Our purpose is to create the bikes that'll deliver the results as our customers tackle their next performance goal.
This is our #FeltFamily.
To realize our mission, we take direction from several guiding principles that provide focus and determination along the way. These beacons keep us aligned, focused, and on-pace with an uncompromising approach to who we are and what we do. Our promise as a brand is to deliver a superlative ride to those with an unbridled competitive spirit. Speed is good
BORN AND BRED IN CALIFORNIA
Felt Bicycles was founded in California, a land of pioneers, entrepreneurial mavericks, technology-driven mavens, and the most passionate outdoor fanatics you'll find anywhere. Since 1991, we have strived to be the most innovative cycling company on the planet. That's been our guiding principle. And, our targeted goal is to help each rider ascend to a world championship victory, surpass a personal record, or achieve a perfect ride on the parcours of their liking. We are devoted to creating the finest cycling experience in the world because we love nothing more than bikes and what they can bring to the human experience. From conquering an alpine climb to descending technical single-track, from the thrill of racing to the forging of camaraderie on a group ride with friends, nothing compares to the act of pedaling. Wherever you are in your two-wheeled journey, we invite you to join us for the ride.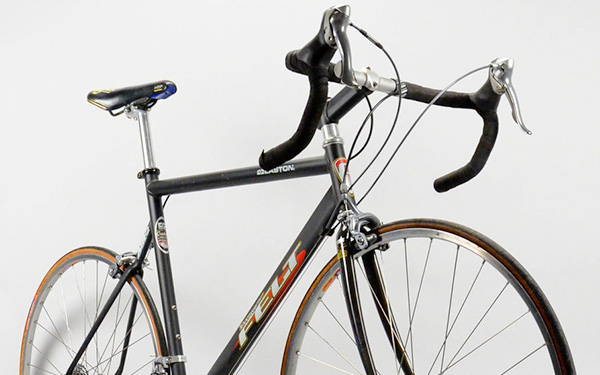 An early Felt bike shows the trends of the time. Through the years, we built a mastery of carbon and focused on cutting edge aero profiles and ride quality to showcase Felt's unique riding experience.
Paula Newby-Fraser was Felt's first sponsored athlete, beginning our long association with the sport's top performers and women athletes.
Our namesake was an engineering rebel who forged his own path through the complex world of bicycle design, establishing an ethos of always doing things the right way, and never just the easy way. Together with a tough-as-nails entrepreneur who mandated that everything our team set out to achieve must focus solely on the rider experience, along with a mad scientist whose obsession to detail is tangible in every product we create, they assembled a ragtag team of misfits from all avenues of the cycling, outdoor, aerospace, and consumer tech industries to form a collective of the most ambitious bike enthusiasts in the world. Felt Bicycles has thus grown from humble beginnings in a Southern California garage to a globally recognized creator of the best performing bikes on planet earth.
Our genesis emerged through a radical departure from the bicycle design norms of the late 1980s, where high-performance frames were often visually indistinguishable from one another and homologous when it came to performance due to an overall lack of aerodynamic efficiency compared to today's standards. As countless frame makers experimented with new materials and unorthodox aesthetics, Felt Bicycles focused on function over form, on a painstakingly iterative design process, and on adapting the bike's characteristics to the fit needs of the rider, rather than the other way around. The finest example of this early commitment to the rider was our work with legendary triathlete Paula Newby-Fraser. After winning three world championships at Kona, Newby-Fraser knew that a younger, hungrier crop of up-and-comers was nipping at her heels, so she sought additional speed from her equipment. Her stealth black B2 model, one of our earliest creations, with its stiff pedaling interface and a riding position that both optimized aerodynamics and maximized pedaling power, carried Newby-Fraser to a fourth world championship.
Throughout the next few decades, the legend of Felt Bicycles grew, as did our reputation as a purveyor of high-performance machines, all designed to elevate the riding experience through practical engineering, the very best materials, and zero marketing hogwash. The results speak for themselves. Felt bikes have been ridden to stage wins at all of the Grand Tours, record-breaking triathlon world titles, Olympic gold medals, and world championships on the road, trail, track, and cyclocross racecourse. Belying this success, Felt Bicycles remains a relatively small operation in Southern California, committed to its core guiding principles and the passionate riders were serve. Year-round sunny weather and pristine riding conditions coupled with in-house engineering, research and development, and prototyping, allow us to test and push new iterations each and every day, finely tuning the latest crop of bikes for the season to come. We've never done things the easy way, only the right way. And we put the rider's needs first to create the finest cycling experience possible.

THE FUTURE
The world is dynamic. It is an ever-changing ecosystem that demands a commitment to improving one's skills, fitness, and mindset. Those who rest on their laurels are left in the dust, while those who keep their eyes firmly affixed on the road or trail ahead of them remain poised for success. We've pioneered carbon fiber usage in bike design, set new standards in mountain bike suspension systems, and revolutionized aerodynamic development in the pursuit of the ultimate racing equipment. But we're just getting started.

While many of our competitors rely on endless flash with limited substance, we're committed to the details of product design, to pushing the limits of engineering, and to staying true to our roots when it comes to enhancing the cycling experience. This means that we focus on what we do best - design, engineering, product development, and testing (repeated over and over again) - to deliver the best experience for the rider. We don't cover every category of bikes; we prefer to focus our attention to where our skills and competencies make the most difference to the rider.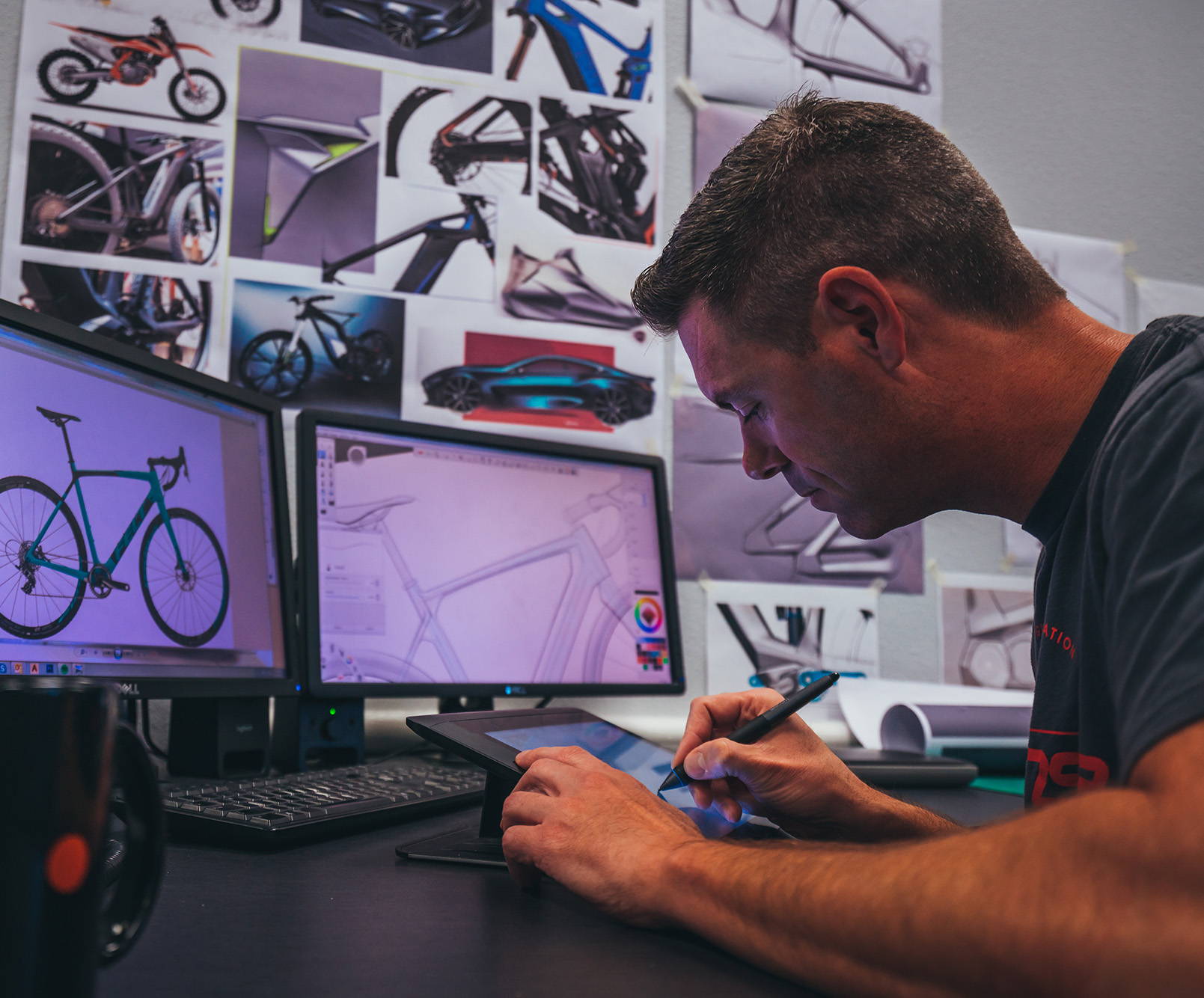 We believe that racing is an inalienable component of the cycling experience, something that inherently beckons one to push one's self beyond their limits, as well as those of their equipment. For us, racing provides unrivaled feedback to help produce the most efficient bikes possible, be it in terms of stiffness, aerodynamics, handling, or even comfort.
For riders, there's an inherent thrill to be had when racing your buddy up a climb or down a trail, something that taps into one's inner child when you competed against your friends on the playground, or your siblings in the backyard. And even if competing against others isn't your jam, you're always racing against yourself by bettering your personal record in a triathlon, trying to crack the top ten on a Strava segment, or even completing an epic ride when your old self would have said that it'd be impossible.
So whether it's shattering a world record in the velodrome like American Chloe Dygert, pushing oneself to the absolute limit of human endurance on the lava fields of Kona like Swiss star Daniela Ryf, cultivating a culture of confidence and self-esteem by encouraging young women to compete like the TWENTY20 pro cycling team, or even out-sprinting your buddy to the city limit sign on your weekend road ride, we're proud to support bike racing in all its forms. Read more about #RacingMatters
At Felt Bicycles, we remain committed to the pursuit of excellence in design, aerodynamics, and carbon fiber. Our innovations come from iterative development, real-world testing, and efforts to get athletes across all types of finish lines around the world. Whether you are racing on the tarmac, slugging it out across stretches of gravel, shredding down a gnarly jump line, or drilling it thread some headwinds thinking about the run segment to come, we're there to deliver the best to you. And, remember, together we're the #feltfamily.